Scheduling Software for Police Departments, Sheriff's Offices, and Law Enforcement Agencies
Personnel scheduling for police departments, sheriff's offices, and other public safety agencies presents many challenges. Most of these law enforcement agencies have a variety of job positions that require different shift schedules. The police patrol division may work a 24/7 10-hour shift system while administrative personnel may be on an 8-hour, 5-day-a-week schedule. Some police agencies prefer to schedule police officers according to the time of day based on work load patterns. Union and FLSA rules may place restrictions on police officer work hours, overtime compensation, call back, as well as the types of shift rotation that can be implemented. You must consider job training, time-off requests, skills, labor rules, and shift coverage requirements when scheduling your police officers. When necessary, you must find qualified backup personnel or substitutes to fill a shift as quickly and efficiently as possible.
Snap Schedule Police Scheduling Software Capabilities
Easily schedule unlimited number of police officers and shifts
We went from using 60 percent of available budget year-to-date down to 30 or 40 percent. That saves taxpayers direct and indirect costs. If we add that windfall to the hours the schedule planner saves, Snap Schedule employee scheduling software can pay for itself in a few days.
Captain Jeffrey D. McDougal
Operations Division Commander
Zephyrhills Police Department
Drag & drop to easily assign shifts, mark time off, move or copy assignments.
View shift assignments and schedule police officers from three different views. Use whichever view is easiest and most effective for your police scheduling tasks.
Create rolling shift schedules – from days to years.
Automatically generate work schedules using industry standard shift patterns or user-definable schedule plans. Snap Schedule software comes with pre-designed compressed work week, 8, 10, 12, and 24 hour fixed and rotating shift schedules that meet staff scheduling needs of most law enforcement agencies, campus police departments, and correctional institutions. Preview work schedules and make changes as necessary.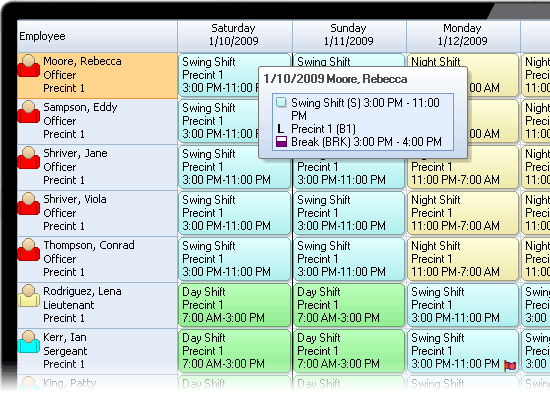 Track all training, vacation, sick leave, and other off-work requests
Define as many paid and un-paid time-off reasons as you like.
Simply drag & drop a reason onto the Schedule Planner to mark when a police officer is off-work.
The software's Schedule Outlook shows who are off-work and why.
Available reports provide details on planned vacation, training, time off hours for any time period you select.
Flexible multi-location police scheduling
Define work locations (stations, patrol routes, events, etc.) for your police deprtment and designate authorized work locations for each police officer. The Schedule Planner will alert you if any police officer is assigned to an unauthorized location.
Know instantly where police officers are assigned from a single computer screen. No need to flip through pages of paper to see absentees, on-call, training, or overtime situations. Show shift and rotation scheduling for any location on any date.
Use standard reports to gain visibility into scheduling activities and cost data at all locations, groups of locations, or a specific location.
Quickly and efficiently fill a shift or find a substitute
Quickly find and contact a substitute police officer.
Tell Snap Schedule software your criteria and it will show you a ranked list of available candidates to fill a shift. Ranking can be based on many criteria including job position, skills, availability, labor cost, work hour limits, and seniority.
The difference between pushing Excel to do something it wasn't made for and staff scheduling with Snap Schedule shift scheduling software is like night and day. Literally, every rostering function is faster, easier, more accurate and foolproof in Snap Schedule.
Larry Giannone
Captain
Sierra Madre Police Department
Multi-skill police scheduling is a breeze
You can identify applicable skills and certifications for any police officer. Define skills and certifications related to special training, experience with canines, executive bodyguard work, firearms usage, etc.
The Shift Coverage Planner lets you know if there are enough police officers with the right skills to staff a shift.
The software's Staffing Overview graph displays the number of scheduled police officers having a specified skill by location, shift, or hourly coverage.
Work around your schedule constraints with ease
Define each police officer's availability schedule, desired work hours, daily work hour constraints, and weekly work hour constraints.
The software's Schedule Planner alerts you to availability conflicts, duplicate shift assignments, overlapped shift assignments, and conflicts with scheduled time off.
The Daily Assignment Validation report identifies all discrepancies and constraint violations.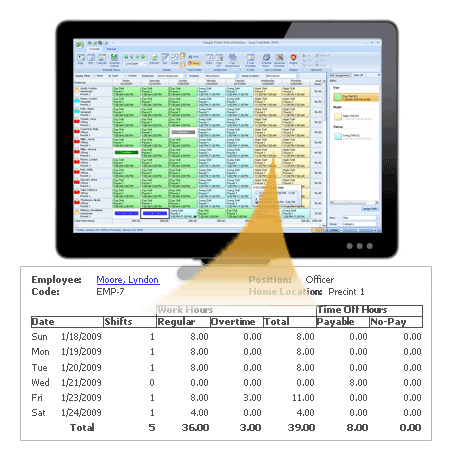 Manage labor costs and avoid over/under staffing
Set overtime policies for your organization.
Define hourly cost, overtime exempt status and work hour constraints for each police officer.
Use the software's Shift Coverage planner to monitor under/over staffing conditions based on position, skill, and assignment reason.
Adjust police officer's shift assignment start time, end time, and payable hours as necessary to reflect actual work hours.
Standard reports provide labor cost, over-time details and summary data associated with the schedules you created over any specified period.
Export labor cost data for payroll and accounting purposes.
Easily publish schedules to police officers and supervisors
Print schedule views, lists, assignment calendars, and reports to communicate schedule information to management and police officers.
Easily publish work schedules, calendars, and any report in PDF and a variety of other formats.
Automatically email work schedules (in text or iCalendar file format) to police officers and/or their supervisors.