Employee shift scheduling and rostering for Emergency Medical Services (EMS), public safety agencies, rescue squads, 911 dispatch, ambulance crews, and medical transportation services presents many challenges. Making sure that each shift is properly staffed with the right number of workers is one of the hardest tasks that schedulers and operations managers face. Union and FLSA rules place restrictions on work hours, consecutive work days, overtime compensation, as well as the types of work schedules that can be implemented. Schedulers must keep track of training assignments, compensatory time, off time and know when part-time or volunteers will be available for work. Complex schedules and last minute changes can make EMS scheduling difficult. When necessary, schedulers must find qualified backup and on-call personnel to fill a shift as quickly and efficiently as possible.
Varying staffing levels, skill sets, collective bargaining agreements, and compliance regulations all play a vital role to ensure the right workers are scheduled at the right time. Managing an ever-growing list of required certifications for EMT or paramedic technicians and ensuring technicians with expired certifications are not scheduled can be very challenging if done with pencil and paper or Excel spreadsheet templates.
Snap Schedule Staff Scheduling Capabilities
Our Snap Schedule employee shift scheduling software helps agencies and organizations save significant time, resources, and costs. It offers several different work schedule views designed to accommodate a variety of scheduling styles, shift configurations and processes. With point-and-click scheduling ease, it warns you of scheduling conflicts, ensures policy enforcement and union compliance, calculates overtime, extra duty pay, and shift premium costs of each shift, finalizes pay sheets for payroll, and allows you to easily publish and distribute work schedules electronically to workers and managers.
Easily schedule unlimited number EMS, 911 public safety employees and volunteers
Drag & drop to easily assign shifts, mark time off, move or copy assignments.
For each shift, line-up on-call or stand-by employees for emergency situations.
View assignments and schedule workers from three different views. Use whichever view is easiest and most effective for your scheduling tasks.
Create rolling work schedules – from days to years.
Set multiple work limits to give a warning when an employee is about to be scheduled for more than a certain number contiguous hours and/or hours per week or pay period.
Software automatically generates employee work schedules using industry standard shift patterns or user-definable schedule plans. Preview work schedules and make changes as necessary.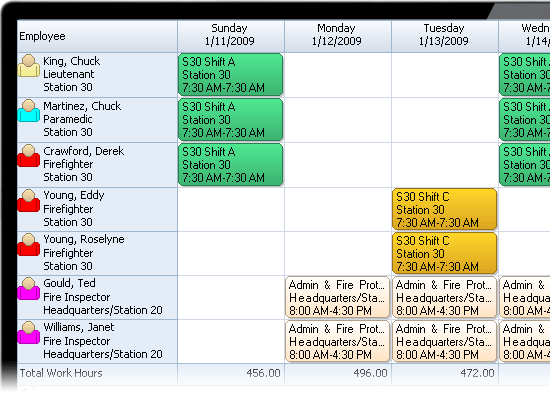 Improve communications by empowering employees with online scheduling self-service access
Available online, 24 hours a day/7 days a week and accessible to employees whether at work or at home, Snap Schedule 365 self-service features cut scheduling and administrative time by making employees more pro-active in the process.
View Work Schedules: View employee's shift assignments, time-off, shift trades as well as co-workers' work schedules. From this planner, employees can filter what they want to see, request time off, bid on open shifts, and trade or pick up shifts from co-workers.
Request Time Off: Employees can make time off/vacation requests, and schedulers can track, manage, approve, or deny those requests. Employees can see the approval status and are automatically alerted when their request is approved or rejected via an in-app notification.
Trade/Pick Up Shifts: Allow shift trading between employees with or without a scheduler's approval. Employees can post their assigned shifts to trade with coworkers who are eligible to work the shifts.
Punch In/Out: Employees can punch in and out of their assigned shifts, and schedulers can see the punch data in real-time in the Punch view or run reports to see the variances between planned vs. actual work hours and costs for any date range.
Self-scheduling with Open Shifts: Empower employees by letting them self-schedule with open shifts. Schedulers can simply create an open shift for a position and specify the number of employees needed and the required skills.
View Time Card Information: Employees can view their planned and actual work hours for the current, previous, or next payroll cycle. On-call, overtime, paid and unpaid time-off hours are also presented.
Look Up Coworkers: Employees can look up coworker's contact information to call, text, or email. Schedulers decide whom to include or exclude from the directory.
Update Availability: Save time and stay up-to-date by allowing employees to update their own contact information and availability. Employees can enter their availability information for each day of the week, and in multiple time segments as needed.
Track all training, vacation, sick leave, and other off-work requests
Define as many paid and unpaid time-off reasons as you like.
Simply drag & drop a reason onto the Schedule Planner to mark when an employee is off-work.
The Schedule Outlook shows who is off-work and why.
Available reports provide details on planned vacation, training, time off hours for any time period you select.
Publish calendars showing work schedule and scheduled time-off.
Personnel & certification tracking
Keep complete records of available EMT, paramedics, dispatchers, operators who may be permanent, full-time or part-time staff, float or per-diem staff, volunteers, or registry staff.
Get proactive - systematically track credentials and monitor expiration of or renewal dates for certification.
Use Snap Schedule's 25 customizable fields in each employee record to track information that is unique to your operation.
Flexible multi-location scheduling
Define work locations for your organization and schedule employees for each.
Know instantly where each work is assigned from a single computer screen. No need to flip through pages of paper to see absentees, on-call, training, or overtime situations. Show shift and rotation scheduling for any location on any date.
Use standard reports to gain visibility into scheduling activities and cost data at all locations, groups of locations, or a specific location.
Quickly and efficiently fill an open shift or find a substitute
Quickly find and contact available employee and volunteers when additional manpower is needed.
Fill schedule holes with just a few clicks of the mouse. Tell Snap Schedule your criteria and it will show you a ranked list of available candidates to fill a shift. Ranking can be based on many criteria including job position, skills, availability, labour cost, work hour limits, and seniority.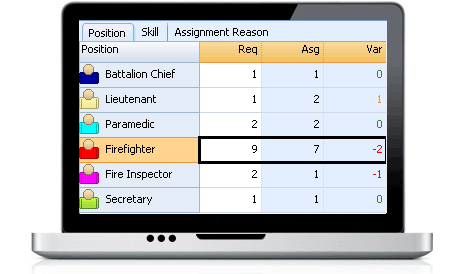 Multi-skill scheduling is a breeze
You can identify applicable skills and certifications for any employees. Define skills and certifications related to special training, technical rescue, para-medicine, emergency medical services, etc.
The Shift Coverage Planner lets you know if there are enough workers with the right skills to staff a shift.
The Staffing Overview graph displays the number of scheduled workers having a specified skill by location, shift, or hourly coverage.
Work around your schedule constraints with ease
Define each employee's availability, desired work hours, daily work hour constraints, and weekly work hour constraints.
The Schedule Planner alerts you to availability conflicts, duplicate shift assignments, overlapped shift assignments, and conflicts with scheduled time off.
The Daily Assignment Validation report identifies all discrepancies and constraint violations.
Manage labor costs and avoid over/under staffing
Set overtime, FSLA, and shift premium pay policies for your organization.
Define hourly cost, overtime exempt status and work hour constraints for each employee.
Use the Shift Coverage planner to monitor under/over staffing conditions based on position, skill, and assignment reason.
Adjust employees' shift assignment start time, end time, and payable hours as necessary to reflect actual work hours.
Standard reports provide labor cost details and summary data associated with the schedules you created over any specified period.
Export labor cost data for payroll and accounting purposes.
Easily publish schedules to EMS workers and managers
Print schedule views, lists, rosters, shift assignment calendars, and reports to communicate schedule information to management and employees.
Easily publish work schedules, calendars, and reports in PDF and a variety of other formats.
Automatically email work schedules (in text or iCalendar file format) to EMS department employees and/or their supervisors.
Request a Personalized Demo & Consultation
If you prefer personalized online demo from the convenience of your office via Citrix GoToMeeting, we can do that too. We will schedule one of our product specialists to help you set up your schedule, walk you through the many features of our scheduling software, and answer your specific questions. There is no risk, no cost, and absolutely no obligation on your part.
Request a Demo
Try It For Yourself
Try Snap Schedule 365 absolutely free for a full 30 days. The trial period starts on the day you first use our software and automatically expires 30 days after. You can use one of the sample schedules to evaluate the software features or enter real data and use Snap Schedule 365 to schedule and manage your employees.
Get Your Free Trial