Appointment scheduling overview
If your business lives or dies by smooth appointment scheduling, fast task completion and exact service records, then Business Appointment Manager is your most modern, function-rich appointment scheduling software. Managers and owners need time for customers, staff, planning, and problem solving. Business Appointment Manager software speeds up necessary, but time-consuming, schedule and billing management tasks for appointment-based businesses.
Appointment Scheduling
Business Appointment Manager Software lets everyone in the office review, schedule, and manage service providers' appointments — on one screen! Through a simple, familiar interface you can change and juggle appointments for countless staff, service groups, rooms, resources, vehicles and inventory.
With Business Appoinment Manager Software, you can:
Schedule everyone's appointments — side-by-side all on one screen!
Schedule people, rooms, equipment, and resources - avoid double-booking
See, control and report on every detail
Customize the appointment planner screen to suit your needs and business methods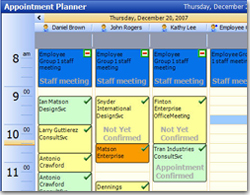 Billing and Business Management
Business Appointment Manager software provides you the tools to manage your customers and sales through simple, efficient dialogs so you can perform your order entry and customer follow-up with ease. You will be able to calculate and send invoices in minutes, not hours, as you bill for staff hours, flat fees, inventory, third-party services, travel, or anything. To complete the circle of information, Business Appointment Manager software exports critical data to financial software packages like Microsoft Office Accounting.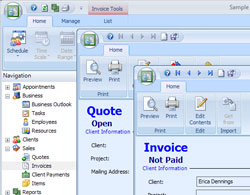 Customer Relationship Management (CRM)
With Business Appointment Manager software on your side, you can increase sales and service revenue by thoroughly managing your customer relationships. Send appointment reminders to customers and staff. Through simple screens and detailed reports, you can see contact data and demographics or link, track, and report on prospect and customer communications. You can also track phone and e-mail communications—even documents and materials sent and received.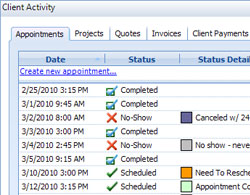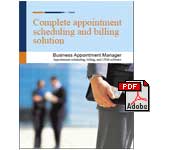 Download Business Appointment Manager Brochure
Who needs Business Appointment Manager Sofware?
Academics Advisors
Accounting Services
Assisted Living Centers
Attorneys & Legal Services
Archtitects & Engineers
Banks & Financial Planners
Barber Services
Car Detailing Services
Carpet & Flooring Installation
Caterers & Events Planners
Consultants
Counselors
Chiropractors
Cleaning Services
Community Centers
Dance Instructors & Studios
Dentists & Doctors
Government Offices
Hair Nail & Beauty Salons
Healthcare Services
Homecare Agencies
Home Health Nursing Agencies
Hospitals & Medical Clinics
Insurance Adjusters & Agents
Interior Designers
Massage Therapists
Medical Staffing Agencies
Nurse Staffing Agencies
Music Instructors
Nurses Registry Services
Nursing Agencies
Optometrists
Personal Trainers
Pets Clinics & Hospitals
Pets Grooming Services
Photographers
Physical Therapists
Realtors & Real Estate Agencies
Rental Services
Senior Centers
Spas & Tanning Salons
Sports & Tennis Courts
Sports & Fitness Instructors
Veterinarian Offices