Snap Schedule App for iOS Devices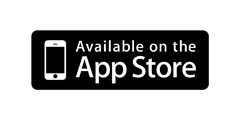 Snap Schedule Premium systems equipped with the employee remote access add-on allow employees to access their schedules, request time off, bid on open shifts, punch in and out, view time cards, update their availability to work, and view the employee directory via iOS smart phones/mobile devices and web browsers. There is no complicated system to setup and all you need besides Snap Schedule Premium is an Internet connection. Your Snap Schedule Premium database can be stored on your internal network safely behind a firewall, in the cloud, or on your web hosting server. Using Snap Schedule Premium, you decide which mobile access features to enable and who will be allowed access. Your employees download the free Snap Schedule iOS native app from the App Store to their devices and use it anywhere and at any time.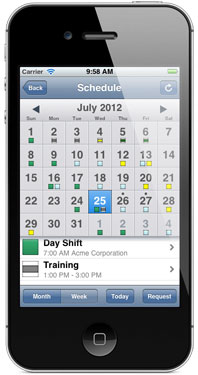 Native, fast, and easy to use
The Snap Schedule mobile app for iOS devices uses the same native user interface elements that you enjoy. Wherever you are, you can access your company's Snap Schedule system 24/7 using your iPhone, iPad, or iPod touch and do most things with a few swipes and taps.
Instantly see work schedules and leave
In the Month view, you can see your shift assignments and time off events in the familiar monthly calendar format. On the calendar, you will see one or more squares on any day that has one or more shift assignments or scheduled time off. Tap that day to see the list of assignments and time off events the squares represent. The squares are color coded by the shift or time off reason defined in Snap Schedule Premium. The Week view presents a list of assignments and time off for one week.
Request time off any time, from anywhere
You can allow employees to request time off from their mobile devices and further restrict the time frame during which an employee can make a request. Snap Schedule Premium lets you process time off requests visually from the Daily View or from a list of pending requests from the Schedule Outlook View. When an employee submits a time off request, its processing status is set to Pending. After you approve a time off request, its status is set to Approved and a time off assignment is automatically created. If you reject a request, its status will be set to Rejected and no time off assignment will be generated.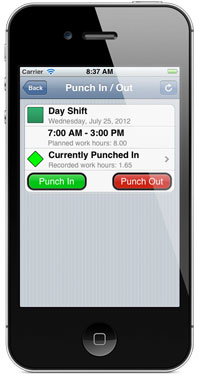 Bid on open shifts
As a part of employee self-service offering, you can allow employees to view and request open shifts. Typically, you use Snap Schedule Premium to determine if additional shifts are required. Then you create an open shift posting for each position and specify the number of employees needed to fill the open shift and their qualifications. Employees who meet the required qualifications can view the open shifts and bid on (sign up for) the shifts that they would like to take. You review the requests and approve or reject them. When a request is approved, the employee's work schedule is immediately updated.
Punch in/out
Employees can punch in and out of their assigned shifts and you can set the time window for when employees are allowed to punch in or out. In and out punches are instantly displayed on the Snap Schedule Premium Punch view so you can easily see how their scheduled shifts and hours compare to the shifts and hours the employees actually worked. The punch data can be used to report the variances between planned and actual work hours and costs. This feature is useful in the security and protection industry where monitoring of security guard check in/out at assigned posts is required.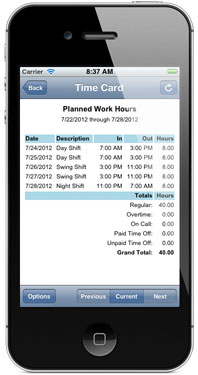 View time card information
Employees can view their planned and actual work hours for the current, previous, or next payroll cycle. On call, overtime, paid and unpaid time-off hours are also presented.
Set availability
Employees can update their weekly availability and the employee's availability will take effect immediately in Snap Schedule Premium.
Access employee directory
No need to comingle personal and work-related contact information on your mobile device. Call, text, or email fellow employees directly from the Snap Schedule mobile app. You decide whom to include or exclude from the directory using Snap Schedule Premium.
Try It For Yourself
Download Snap Schedule Premium and try it free on your personal computer. The trial period starts on the day you first use our software and automatically expires 30 days after. You can use one of the sample schedules to evaluate the software features or enter real data and use Snap Schedule Premiumn to schedule and manage your employees.
Download Now
Download Now
Request a Personalized Demo & Consultation
If you prefer personalized online demo from the convenience of your office via Citrix GoToMeeting, we can do that too. We will schedule one of our product specialists to help you set up your schedule, walk you through the many features of our scheduling software, and answer your specific questions. There is no risk, no cost, and absolutely no obligation on your part.
Request a Demo