Access Scheduling Information On The Go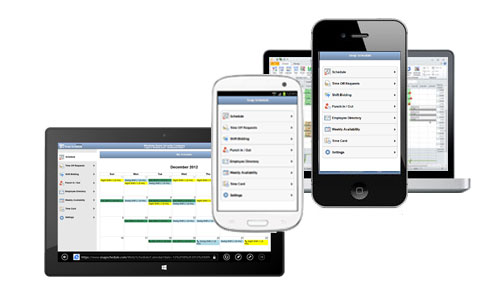 Let your employees access their scheduling information on the go from any smart phone, tablet, or web browser by subscribing to the Snap Schedule Premium Employee Remote Access (ERA) add-on option. From any computer or mobile device with Internet access, your employees can access their schedules, request time off, bid on open shifts, punch in and out, view time cards, update their availability to work, and view the employee directory.
There is no complicated system to setup and all you need besides Snap Schedule Premium employee scheduling software is an Internet connection. Your Snap Schedule Premium employee scheduling database can be stored on your internal network safely behind a firewall, in the cloud, or on your web hosting server. Using Snap Schedule Premium, you decide which mobile access features to enable and who will be allowed access.
Native App for iOS devices
The Snap Schedule mobile app for iOS devices uses the same native user interface elements that you enjoy on your iPhones and iPads. Wherever they are, your employees can access the company's Snap Schedule system 24/7 using an iPhone, iPad, or iPod touch and do most things with a few swipes and taps. Your employees will be able to:
Instantly see work schedules and leave
Request time off any time, from anywhere
Bid on open shifts
Punch in/out
View time card information
Set and update availability
Access employee directory and contact information
Change password and contact information
Access via a Web Browser
Employees using desktops, laptops, and mobile devices can easily use a modern web browser to access their schedules. Like the Snap Schedule native iOS App, all communications are SSL encrypted for secure transmission over the Internet. The same functions that exist in the native iOS App are available in the browser - with the same ease of use.
Snap Schedule web app is touch-enabled and works with popular browsers like IE, Firefox, Chrome, Safari, Opera, and Dolphin running under Windows, Windows-RT, iOS, Android, Mac OS, and more.