What's New in Snap Schedule 2013
We've listened to you, our customers, and added many exciting new features and improvements to help you get more done in fewer steps. Snap Schedule 2013 software now gives you more power, more control and more flexibility to schedule your employees – without spending a lot of time. What's more, we make it easy for you to upgrade. Snap Schedule 2013 software easily reads your existing schedule files and upgrades them in minutes.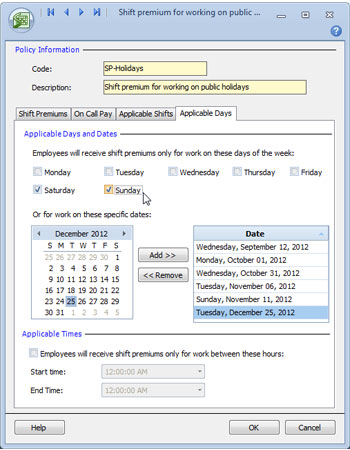 More Options for Shift Premium Pay
In addition to days of the week, you now can specify the exact dates when a shift premium pay will take effect. If you are required to pay your employees extra (shift allowances or penalty rates) for working on weekends and public holidays, you can now enter those dates on the shift premium policy and Snap Schedule software will accurately calculate the labor costs.
Multiple Shift Premium Policies Per Shift
You can now associate multiple shift premium policies to a shift to implement complex shift premium pay rules. For example, in Australia, many awards and enterprise agreements include additional rates of pay for employee working evenings, nights, weekends or public holidays. By creating multiple shift premium policies, you can now easily set up Snap Schedule software to compute virtually all kinds of shift allowances and penalty rates.
Credit Shift Hours the Next Day
You now have the option to credit the hours that your employees worked on shifts crossing midnight to the day following the shift start date. This is helpful to the security and protection industry where most shifts start at 11pm and cross over to the next day.
Enhancements to Existing Reports
Added an option to display employee's pictures in the Employee List report.
Added a new report, Total Work Hours by Location, that shows employees' total work hours over a specified data range based on shift start/end times for each shift location.
Upgraded the report engine to improve report generation performance
Provided a new option to open the exported file immediately after data exporting.
Updated several reports to use the SDK's classes instead of direct SQL queries to improve flexibility and reusability
Attach Task Assignment Notes
You can now attach a note of up to 128 characters to each task assignment. Task notes will now be displayed on the pertinent reports when they are present. You can also configure the Task View to display task notes on task assignments.
Smooth Migration to Snap Schedule Premium
Snap Schedule 2013 software is designed to ensure a smooth upgrade to Snap Schedule Premium 2013 in one simple step without any loss of data. You can easily upgrade to Snap Schedule Premium 2013 to take advantage of its multi-user, concurrent access capabilities and employee remote access apps.
Run on Windows 10, 8, and Windows Server 2012
Snap Schedule 2013 has been tested and passed certification tests for Microsoft's recently released Windows 8 and Windows Server 2012.
Changes Made to Forms to Support New and Enhanced Features
Shift Premium Form
Added a new tab, Applicable Shifts, to associate the shift premium policy to any number of shifts.
Added a new tab, Applicable Days, to specify the days of the week or specific dates and the start and end times when the shift premium pay will take effect.
Select an Employee for the Shift Form
Re-layout the Configure Employee Information Table to make it more compact.
Employee Form
Added a new Location Code column in the Locations tab.
Shift Form
Added a new Shift Premium Policies tab to identify all applicable shift premium policies.
Other Enhancements
Added a new placeholder for customizing how employee schedule will be shown in e-mail messages.
Extended the SDK to allow access to detailed employee work hours, time off schedules, and pay data.
Removed Features
Removed the option to import data from Microsoft Office Accounting software because this software product was discontinued by Microsoft.
Try It For Yourself
Download Snap Schedule and try it free on your personal computer. The trial period starts on the day you first use our software and automatically expires 30 days after. You can use one of the sample schedules to evaluate the software features or enter real data and use Snap Schedule to schedule and manage your employees.
Download Now
Request a Personalized Demo & Consultation
If you prefer personalized online demo from the convenience of your office via Citrix GoToMeeting, we can do that too. We will schedule one of our product specialists to help you set up your schedule, walk you through the many features of our scheduling software, and answer your specific questions. There is no risk, no cost, and absolutely no obligation on your part.
Request a Demo